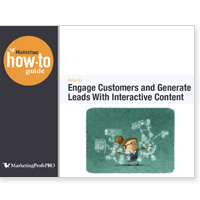 Engage Customers and Generate Leads With Interactive Content
Marketing has always been and will always be a battle for attention: You can't sell something to someone who won't pay you any mind.
Let's assume you succeed: You earn a prospect's attention. What's your next challenge? You need to keep their attention. Because, ultimately, you want them to take some sort of action.
Attention becomes much more valuable when it leads to engagement. But, these days, your click-happy prospects are reluctant to stay on a page for more than a few seconds.
The bottom line: more than half of content marketers are struggling to engage potential customers—and the struggle is getting tougher by the year.
The problem may simply be that the content marketers are producing is too static. Or predictable. Or dull.
It's no wonder, then, that in recent years interactive content has been on the rise. Many companies have taken notice of how leading online publishers are scoring big with quizzes and various interactive formats. Some have responded by experimenting with interactive content on their own online properties. And most are more than happy with the results.
Although interactive content has catapulted into the mainstream on some sites, it remains mysterious to most marketers: What is it? How's it done? Can interactive content actually deliver brand affinity? And leads?
This 27-page guide will answer your questions about interactive content. It'll show you that it's about more than just games. It may even inspire you to "interactivate" your own content and engage your readers.
You will learn:
How to plan your interactive content
How to get started creating interactive content
What interactive-content software and services are available
And much more!
This is just one of over 4000 marketing downloads, templates, guides, research reports, surveys, case studies and how-to articles INCLUDED with PRO Membership. Sign up today