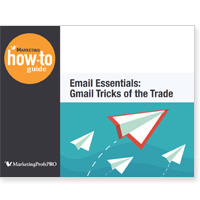 Email Essentials: Gmail Tricks of the Trade
Sorry, all you Yahoos, Outlooks, and Mail.com's of the world. Google's Gmail is the indisputable leader in this space, now topping a billion monthly active users.
That's right, in the four short years since becoming the largest Web-based email service in the world, Gmail has practically tripled its active user base to thoroughly solidify its top dog status, and we email marketers need to take note because the bulk of our outbound mailings are more likely than ever to be bound for Gmail-hosted inboxes.
Or rather, we can hope our messages make it into those inboxes because Gmail also maintains some of the toughest standards in the business to protect its users from spam, phishing scams and unwanted mail.
Well, we say phooey to mere hoping. It's time for all good marketers to get their email marketing programs up to speed and aligned with all of Google's rigorous criteria because, frankly, given how crucial email is to most businesses, few of us can afford not to.
Take heart because this is positively achievable, and this 39-page guide explains how to do it. In it, you'll learn which steps to take to ensure that every one of your messages makes it into the inbox (or perhaps even into the esteemed "Primary" tab), how to establish lasting trust with both Gmail and its billion-strong user base, and how to push your Gmail marketing results to the next level.
You will learn:
How to get delivered
How to establish and maintain trust
How to earn 'Primary' status
... and much more!
This is just one of over 4000 marketing downloads, templates, guides, research reports, surveys, case studies and how-to articles INCLUDED with PRO Membership. Sign up today