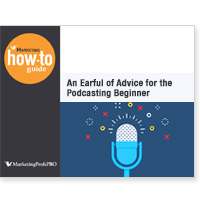 An Earful of Advice for the Podcasting Beginner
Podcasting has developed steadily and become an important element in the mix of millions of content marketers. A 2017 report from Edison Research indicates:
60% of Americans are now aware of the term "podcasting," a 6% increase from the prior year
40% claim to have listened to a podcast
Listening has increased across all age groups
24% listened in the last month, 15% in the last week
28% of Americans say they follow companies and brands in social media, but among podcast listeners, 47% do so (from the 2016 report)
65% use portable devices to listen to podcasts
Edison concludes podcast listeners are affluent, highly educated, and committed to tuning in. They report a mean time amongst weekly listeners of over four hours.
Clearly, podcasting represents an amazing opportunity to be heard by and connect with your audience. Podcasting gives you the power to educate, entertain, inform, inspire, get laughs, incite tears, and touch listeners on an emotional level.
It's easy to get started with your own podcast. This 34-page beginner's guide will help you understand the essentials of podcasting.
You will learn how to:
Sound good with solid tech
Identify the type of show you should have
Get experts to be guests on your podcast
Build an audience for your program
… and much more!
This is just one of over 4000 marketing downloads, templates, guides, research reports, surveys, case studies and how-to articles INCLUDED with PRO Membership. Sign up today