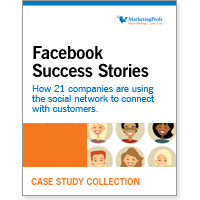 Facebook Success Stories
Today, thousands of businesses are achieving their social media marketing goals because they know the secrets of using Facebook and its unprecedented opportunities for reaching new audiences and turning customers into fans.

Our case-study collection, Facebook Success Stories, shows you how to increase brand awareness, target specific markets, promote new products, and create communities that engage users. You'll see how 21 companies are taking advantage of Facebook's tools, ads, applications, and Fan pages to do more for less.

Facebook Success Stories gives you insider information on how:
Adobe engaged its fans with fun activities that motivated them to repeatedly interact with each other and the company;
Dunkin' Donuts encouraged fans to express their loyalty and rewarded them for doing so;
Sharp Electronics promoted repeat usage by ensuring their applications were simple yet strategic;
And much more!

If you're considering tapping into the Facebook crowd to reach more than 300 million users, this 47-page report is a must-read and includes B2C, B2B, and non-profit examples. Download it today to learn valuable lessons from companies that are on the cutting-edge of social media marketing.
This is just one of over 4000 marketing downloads, templates, guides, research reports, surveys, case studies and how-to articles INCLUDED with PRO Membership. Sign up today