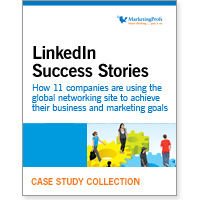 LinkedIn Success Stories
LinkedIn is not the largest or most popular social network. However, it has been embraced by the business and professional community as the place to solicit advice about business decisions, bounce ideas off each other, and get real opinions on products and services.

For B2B and B2C marketers, LinkedIn is a goldmine of marketing opportunities. It boasts more than 55 million members in over 200 countries, with a little over half of its membership residing in the United States. Executives from all of the Fortune 500 companies can be found on its network—even the White House is "linked in." When it sought feedback regarding health care reform from U.S. small-business owners, it turned to the LinkedIn community first.

Our case study collection, LinkedIn Success Stories: How 11 companies are using the global networking site to achieve their business and marketing goals, gives you an inside look at how different companies are using LinkedIn to manifest thought leadership and expertise; attract event participants and attendees; conduct market research; and generate new leads and sales.

You'll also learn how LinkedIn's newest tools are helping marketers get more involved and closer to their business objectives. Download this case study collection today for great advice and insight on how you can promote your ideas, organization, and products.
This is just one of over 4000 marketing downloads, templates, guides, research reports, surveys, case studies and how-to articles INCLUDED with PRO Membership. Sign up today