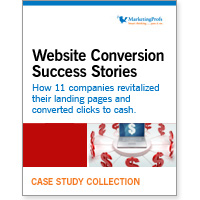 Website Conversion Success Stories
It's one thing to get visitors to your site, but if no one takes action when they're there, you've only done half your job.

Every year, marketers spend billions of dollars on online advertising, paid search, search engine optimization, email marketing, and other communications designed to steer traffic to their websites. But are their sites optimized for maximum conversion and the best return on those investments. More importantly, is yours?

Our case study collection, Website Conversion Success Stories, gives you an inside look at how 11 companies, including Jelly Belly Candy Company and Kinaxis, are transforming their landing pages to improve sales from traffic.

You'll get valuable insight on how these companies identified the factors that impacted their conversion rates and used those factors to turn clicks into sales. We'll show you how you can use these ideas and tips to optimize your own site and boost sales.

You'll also learn four easy steps to improve your site's user experience, make shoppers feel comfortable, and get visitors engaged before they get bored. Each step features case studies that demonstrate real-world techniques used by successful companies to boost conversion on their sites. These case studies offer insight on how you can best incorporate these ideas and programs into your online visitor experience.

Download Website Conversion Success Stories today, and get started improving your user experience and converting visitors to cash.
This is just one of over 4000 marketing downloads, templates, guides, research reports, surveys, case studies and how-to articles INCLUDED with PRO Membership. Sign up today