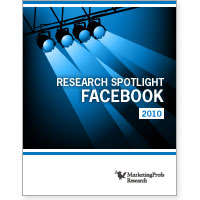 Research Spotlight: Facebook
Research Spotlight: Facebook has the research insights you need to produce successful Facebook marketing campaigns. At nearly 40 pages, it includes 33 charts from 17 research sources (2008-2010 data) and covers:
Who's on Facebook—Get the demographics on more than 400 million Facebook users. Make sure your target audience is part of this social network population.
What tools Facebook members use—Learn how best to reach your target audience and how they spend their time on Facebook. Plus, get the numbers on Facebook members' use of LinkedIn, Twitter, MySpace and other social networks.
How businesses use Facebook—Find out how B2Bs and B2Cs are using Facebook to market and engage with their customers. You'll learn what Facebook marketing tactics work; what makes Fans follow a brand; what times and days are best for posting to Facebook; and vital information to help you plan your own successful Facebook initiative.

Each research source and chart is carefully documented with background information on the companies and studies spotlighted. Research Spotlight: Facebook also includes special tips for MarketingProfs PRO members with links to additional Facebook resources (MarketingProfs seminars, articles, and case study collections).
This is just one of over 4000 marketing downloads, templates, guides, research reports, surveys, case studies and how-to articles INCLUDED with PRO Membership. Sign up today