All About Brand You: Building a Stand-Out Marketing Career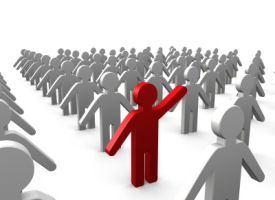 Presenter:

William Arruda

Broadcast:

Thu., Sep 20, 2007, 12pm ET (9am PT)

Length:

90 minutes

Rating:
Want to climb to the top of the ladder in your organization? Want to have managers from throughout the company seeking you out for advice? Want to advance your marketing career just by being yourself?
If you answered "yes" to these questions, you won't want to miss this seminar. Although marketers excel at getting products noticed, understanding a service niche or generating leads for their company, many rarely apply their marketing expertise to their careers.
In this seminar, William Arruda will show you how to use your marketing prowess to stand out at your company, identify the ideal role and advance your career. If you're ambitious or just want to align who you are with what you do, you'll walk away from this seminar with actionable, relevant advice.
Presenter

William Arruda works with individuals and organizations to build strong, memorable brands. Combining his 20 years of international branding expertise with his passion for people, he founded Reach, the world's first branding consultancy focused on the human side of branding. William speaks on branding at conferences and corporate meetings around the world. He consults with such organizations as Microsoft, Ogilvy & Mather, Adobe and Warner Brothers. William has appeared on BBC TV, the Discovery Channel and Radio America. He has published numerous articles in publications ranging from the Wall Street Journal to the brandchannel.com and is one of the most highly regarded contributors to MarketingProfs.com.

William was featured in the November 6th issue of Time Magazine, in the article "It's a Brand-You World."

Who Should Attend?
Marketing professionals at all levels in all industries.
What Will You Learn?
How to unearth your personal brand
How to position yourself among your peers
How to identify your sphere of influence
How to evaluate different opportunities
Ways to get your boss and your boss' boss to notice you
How to stand out in a sea of marketing professionals
Who needs to know about you so you can accelerate your climb to the top
BONUS!
William Arruda is one of the keynote speakers at the MarketingProfs B2B Forum in Chicago, October 1-2. So ... at the end of this live broadcast, we're going to randomly choose someone from the audience to receive two free nights at the conference site, the four-star Renaissance Chicago Hotel, September 30th and October 1st. The winner must register for the conference to be eligible for the prize.
Register Now!
You have two choices. You can pay as you go, buying single sessions that interest you. Or you can buy a PRO membership, and attend all our new PRO seminars and Take 10 webcasts over the next year, plus watch hundreds more from our library on-demand.
Questions?
Call our PRO Hotline: (866) 557-9625