Marketing in an Economic Meltdown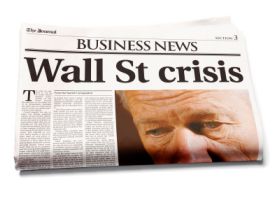 Presenter:

Michael Goodman

Broadcast:

Fri., Oct. 10, 2008, 12pm ET (9am PT)

Length:

90 minutes

Rating:
We're broadcasting an hour-plus online seminar that places today's headlines in perspective for marketing executives and business owners.  The session features six recognized experts, each offering thoughts about the pitfalls and opportunities as we enter a turbulent 4th Quarter and an uncertain 2009.
This is a truly unique opportunity to learn from and participate in a community event driven by the current crisis on Wall Street, Main Street and in Washington.  The presentations will include real-time interactive polls, followed up with live Q&A.
Participating panelists are all recognized experts, marketing veterans, and frequent contributors to MarketingProfs community forum.
Presenter

Michael Goodman is a senior marketing and management consultant with experience that spans the spectrum from micro-businesses and start-ups to the Fortune 25. He learned marketing at corporate giants Procter & Gamble, Frito-Lay and Playtex. He has consulted with clients in both business-to-business and business-to-consumer; local, regional, national and international markets; and industries ranging from industrial chemicals and consumer packaged goods to financial services and healthcare.
Michaael will be moderating this session, offering his own insights, and encouraging you to ask the panel of experts your burning questions.

Who Should Attend?
Marketing professionals like you who want to learn how experts and your peers are adjusting their business strategies to brace for the promised economic upheaval.
What Will You Learn?
Here are the panelists and the issues they will address.  (Their names link to a detailed bio and video introduction page.)
Register Now!
You have two choices. You can pay as you go, buying single sessions that interest you. Or you can buy a PRO membership, and attend all our new PRO seminars and Take 10 webcasts over the next year, plus watch hundreds more from our library on-demand.
Questions?
Call our PRO Hotline: (866) 557-9625