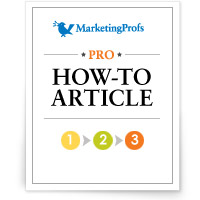 What Do I Stand For?: Determining Your Brand Platform
Perhaps you have a start-up company, and you want to determine what you stand for. Or you have a company with many product categories, but you still want to find some common dimensions to characterize the various products.
What you're seeking is often called a "brand platform" or what has been traditionally called a "corporate image." In essence, the platform or image is really about the corporate (or brand) name. It's important for a company to have a strong brand name that stands for something. That's because if your name doesn't stand for something that you determine, the market and your competitors will do it for you!
But how do you determine this brand platform? That's the subject of this tutorial. We'll start with the fundamental ideas, and then talk about how you might put this into practice.
WHAT IS AN IMAGE OR BRAND PLATFORM?
Purchase today to read the full how-to article ...
This is just one of over 4000 marketing downloads, templates, guides, research reports, surveys, case studies and how-to articles INCLUDED with PRO Membership. Sign up today