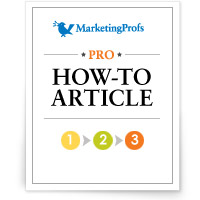 Is Your Internet Co-Branding Strategy Off Track?
There's no denying the benefits to be gained from a careful co-branding strategy. By marrying your brand with another firm's to create a new product or service, your company may better focus on customer needs, increase its ability to communicate with the customer, better differentiate your offering, leverage assets, and even improve revenues. But mostly co-branding builds your brand name.
So, let's say you start by making the decision to have a co-branding strategy.
Don't automatically assume that by working with another company you'll get co-branding benefits. In fact, most firms on the net today mistakenly believe they are engaged in a co-branding campaign when in fact they aren't.
It is more likely that they are conducting a strategic partnership - a marketing approach with far different benefits than those of a co-branding campaign.
Purchase today to read the full how-to article ...
This is just one of over 4000 marketing downloads, templates, guides, research reports, surveys, case studies and how-to articles INCLUDED with PRO Membership. Sign up today