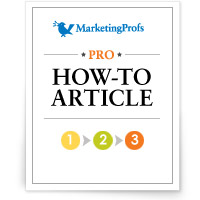 How to Create a Focused DM House List
In the second installment, I shared with you some of the ways you can use Word to take what appears to be unmanageable text and in a very short time turn it into a useable database.
But if you look back at the "Finished TXT" file that we created last time, you'll see that the list, while good, is not complete. At least, it's not complete if you want to personalize the outreach by name and title.
So what do you do when there is information missing? (And there will almost always be some information missing.)
Let's find out.
Purchase today to read the full how-to article ...
This is just one of over 4000 marketing downloads, templates, guides, research reports, surveys, case studies and how-to articles INCLUDED with PRO Membership. Sign up today