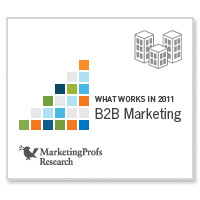 What Works in 2011: B2B Marketing
B2B marketers saw a positive upswing in 2010 after more than a year when many businesses faced slumping budgets and dismal forecasts. But, even with more money to spend, it's still challenging to work within budget and economic constraints; resources must go to programs that deliver results.

From tradeshows and print ads, to blogs and search, in order to grow revenue and ensure success, marketers need to know what works now within the B2B marketplace. With 87 pages packed with original research, 55 charts that communicate key findings at a glance, and smart analysis to tie it all together, our What Works in 2011: B2B Marketing report reveals which tactics put your marketing budget to work best—and which just fall flat (based on 2009 vs. 2010 data).

And, to make doubly sure we provide you with the smartest information around, we teamed with Forrester Research to field our survey (January 2010). Based on those surveys of more than 400 B2B marketers, What Works in 2011: B2B Marketing covers:
How marketing budgets are changing in the improving economic climate
B2B marketers' top program goals—and their biggest challenges
Popular tactics marketers use now and what percentage of B2B budgets are allocated to each
The most effective tactics for generating leads, including traditional and online channels
Which tactics generate the most brand awareness for today's B2B marketers
How the usage of the most popular marketing tactics compares with actual effectiveness
The aggressiveness of marketing technology investments within the B2B sector

If you're a B2B marketer, the What Works in 2011: B2B Marketing report is a must-read. Plus, you'll get a Microsoft PowerPoint document filled with easy-to-cut-and-paste images of all our charts to use in your presentations, blog posts, memos, reports, and more. Use them to augment marketing plans, justify budget requests, and secure buy-in from the C-Suite.
PRO members receive substantial discounts on research and other products—plus they get full access to thousands of exclusive articles, case studies, guides, and SmartTools. Sign up today