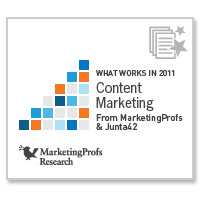 What Works in 2011: Content Marketing
There's a major shift in how companies are marketing themselves online. It's called Content Marketing, and nearly 90% of marketers across all industries use it to grow their businesses, big and small. But what works today? And what tactics will grow your brand reach in 2011?

Find the answers in original research by MarketingProfs and Junta42, What Works in 2011: Content Marketing. Based on surveys of more than 1,100 marketers conducted in 2010, it is the largest, most comprehensive content marketing study of its kind to date. Featuring 100 pages and 51 charts, it presents critical findings covering the most common goals of corporate content marketing programs, what tactics are used today, and how businesses measure results. Plus, this research reveals how best-in-class companies set themselves ahead of the pack.

What Works in 2011: Content Marketing covers:
How B2B marketers are using content to drive demand and revenue
Where they are finding success
The adoption rate of various content tactics
Budget allocations for content creation and distribution
Insights into outsourcing of content marketing
The challenges marketers face as they race to expand their content portfolios
What we can learn from marketers who are having the most success

If you already manage a content marketing program, or if you're just testing the waters, What Works in 2011: Content Marketing is must-read research. Plus, you'll get a Microsoft PowerPoint document filled with easy-to-cut-and-paste images of all our charts to use in your presentations, blog posts, memos, reports, and more. Use them to augment marketing plans, justify budget requests, and secure interdepartmental buy-in.
Looking for intensive, online education that covers all aspects of content marketing? Check out MarketingProfs University's Content Marketing Crash Course. Featuring 14 classes and 18 expert instructors, this in-depth learning experience provides everything you need to become a content marketing master.
PRO members receive substantial discounts on research and other products—plus they get full access to thousands of exclusive articles, case studies, guides, and SmartTools. Sign up today