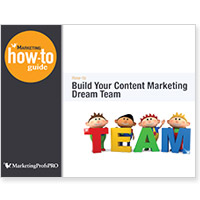 Build Your Content Marketing Dream Team
The dream team. It's a phenomenon on and off the court, the greatest group of people ever assembled. You know you want it. Your company needs it. But how do you get it?
This how-to guide explains how to identify the key hires you need to get your content marketing dream team started, how to add players to the bench from some unexpected places, and what skills will be required of the people you hire.
More than a quarter of enterprise companies developed a global content strategy last year, and many say they now have at least one employee dedicated to overseeing content creation. In this 22-page guide we'll help you determine who that right person is for your team—your point guard, your quarterback, or your forward—and how to build out your roster from there.
You will learn how to:
How to identify the key hires to get your team started
What traits and skills to look for in your key hires
How to manage freelancers and a remote team of employees
... and much more!
This is just one of over 4000 marketing downloads, templates, guides, research reports, surveys, case studies and how-to articles INCLUDED with PRO Membership. Sign up today