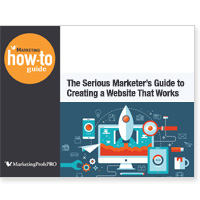 The Serious Marketer's Guide to Creating a Website That Works
All roads lead to your website.
Though you may pursue a long list of online marketing tactics and explore myriad channels, ultimately you aim to pull prospects to your home on the Web.
And that's no small challenge. Over 1 billion websites exist today. Roughly 25% are active websites, so 250 million or more sites are fighting for attention. However, through your efforts, visitors will find their way to way to your website. Then what?
You need to ensure your website not only communicates your brand effectively and distinctively, but also serves as your round-the-clock sales force. Your website must be your company's most powerful marketing tool.
The websites that work are the ones that cause visitors to engage in a shortlist of actions and generate specified outcomes. What's more, websites that work afford the company insights that enable marketers to continually improve on results.
This 51-page guide is dedicated to exploring what it takes to develop and operate a website that works for your company. Whether you're building a website from scratch or optimizing an existing one, approach the project with the mindset of strategy first, execution second. Your planning process should be purposeful and thorough.
You will learn how to:
Build your website with purpose
Set up a solid platform
Design for the customer experience
Create lead-capture and nurturing plans
... and much more!
This is just one of over 4000 marketing downloads, templates, guides, research reports, surveys, case studies and how-to articles INCLUDED with PRO Membership. Sign up today