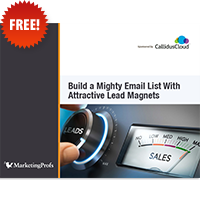 Build a Mighty Email List With Attractive Lead Magnets
Even in the best-case scenario, nearly 98% of first-time visitors to your website will only browse for a moment or two before vanishing into oblivion. Some of these visitors could be the hot leads you're looking for, but you'll never get a chance to earn their trust unless you have a way to contact them.

But how do you convince website visitors to just hand over their email address? Simple. Offer them something they want in return. Download this free guide to learn everything about creating and implementing the perfect lead magnet, and watch your email list grow by leaps and bounds.
This content is made free by our sponsor: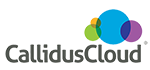 Leading companies in every industry turn to CallidusCloud's Lead to Money suite because it's the only solution that brings together sales, marketing, learning, and customer experience on one connected platform to engage more customers, sell faster, and make every customer interaction a great experience. CallidusCloud helps you identify the right leads, ensure proper territory and quota distribution, onboard and coach your sales force, automate contract processing, and streamline sales compensation.