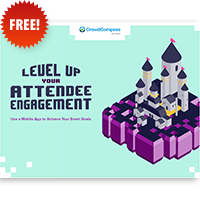 Level Up Your Attendee Engagement
If you've organized a professional event lately, chances are you've used (or considered using) a mobile event app. But just because they're standard fare doesn't mean you can simply hit the "go" button and expect attendee engagement to explode.

How you use games, notifications, and attendee-to-attendee engagement can mean the difference between a pleasantly humming app and crickets. This guide provides you with the most essential tactics for before, during, and after your event, to make sure you get the most out of your mobile event app investment.
This content is made free by our sponsor:

At CrowdCompass by Cvent, we create awesome mobile event apps that increase attendee engagement and produce a strong return on investment. As the premier event app developer, we provide mobile apps for conferences, trade shows, meetings, and events that range in size from 50 to 50,000 attendees. Our solution is an integrated component of Cvent's event management platform—the most comprehensive in the industry.