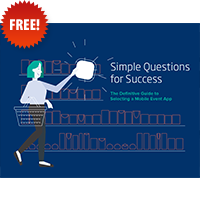 The Definitive Guide to Selecting a Mobile Event App
Maybe you're a seasoned host of professional events who has decided that a mobile event app is the best investment for increasing sponsorship opportunities and attendee engagement. Or maybe you've already tried a mobile event app that missed the mark. But with seemingly identical interfaces and similar features, how do you choose a new one?

This guide will help you determine what your organization and your attendees need out of a mobile event app, so you can make an informed decision that will facilitate an enriching experience and set you up for success.
This content is made free by our sponsor:

At CrowdCompass by Cvent, we create awesome mobile event apps that increase attendee engagement and produce a strong return on investment. As the premier event app developer, we provide mobile apps for conferences, trade shows, meetings, and events that range in size from 50 to 50,000 attendees. Our solution is an integrated component of Cvent's event management platform—the most comprehensive in the industry.