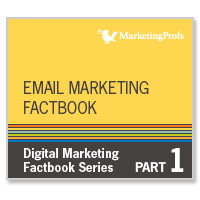 Email Marketing Factbook
Part 1 of the Digital Marketing Factbook series, Email Marketing Factbook (129 pages and 90 charts) is made up of Chapter 1 (The Digital World) and Chapter 2 (Email Marketing) of the Digital Marketing Factbook. Reflects 2009 data.
Just about everybody's using email, making it a marketing goldmine. However, many marketers are failing to execute on basic principles, such as testing and optimizing to ensure effective messages. Don't make these simple mistakes—get the data you need for foolproof email marketing plans.
The Email Marketing Factbook provides information on how email programs are performing, how social media is impacting email, and what consumers think about marketing emails. It also provides insight and advice from our analysts to help you improve your email marketing programs.
This volume includes 90 easy-to-read charts and graphs, each designed to paint a clear picture of Internet usage, how consumers are using email, what they're responding to (and not responding to), and which strategies are working for companies in various industries. Whether you're curious about which email tests are working best for marketers or how companies are tracking information, it's all covered—and explained—in this book.
Interested in more than email marketing?
The Email Marketing Factbook is Part 1 of the complete Digital Marketing Factbook, which includes six digital marketing chapters—The Digital World, Email Marketing, Search Marketing, E-Commerce, Mobile Marketing, and Social Media Marketing. Buy the Digital Marketing Factbook (our 296-page full report), and get all six chapters bundled together at a substantial discount.
Available for individual purchase:
PRO members receive substantial discounts on research and other products—plus they get full access to thousands of exclusive articles, case studies, guides, and SmartTools. Sign up today