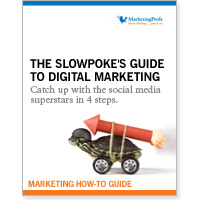 The Slowpoke's Guide to Digital Marketing
Best practices in digital marketing constantly evolve and it can be difficult to keep up—especially if you are already a bit behind. The Slowpoke's Guide to Digital Marketing takes you through four easy steps to help you catch up.
In 51 pages, you'll learn how to:
Establish corporate policies to guide your social media activity,
Set your foundation for digital marketing,
Go where your audience can be found, and
Host your own engagement platforms.
You'll get up to speed with Twitter, Facebook, LinkedIn, YouTube, Flickr and SlideShare as well as learn best practices to build your own corporate blog and/or branded community.
Each step also includes links to additional MarketingProfs resouces: online seminars and how-to articles from digital marketing experts plus case studies of real firms using these strategies and tactics.
With The Slowpoke's Guide to Digital Marketing you'll catch up in no time and reap the benefits of Web 2.0 marketing.
This is just one of over 4000 marketing downloads, templates, guides, research reports, surveys, case studies and how-to articles INCLUDED with PRO Membership. Sign up today