Make Word-of-Mouth Marketing Work for Your Company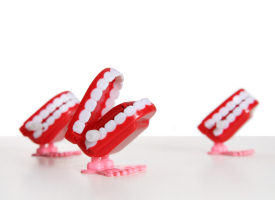 Presenter:

Andy Sernovitz

Broadcast:

Thu., Dec 19, 2007, 12pm ET (9am PT)

Length:

90 minutes

Rating:
Word-of-mouth marketing is becoming the most important, most effective, and most ethical way to promote your company. The rise in consumer control of the media, blogs, and social networks is changing advertising forever. Take a look at how this phenomenon has happened—and what we all need to do to keep it happening.
Learn how to make word of mouth part of your corporate philosophy and how to do it the right way. Become part of the movement and evangelize honest word of mouth. We all win when businesses learn that they make more money by earning the respect and recommendation of their customers.
You can start a word-of-mouth campaign immediately and see results very quickly.
Presenter
Andy Sernovitz is an 18-year veteran of the interactive marketing business and has spent years helping companies learn how to do better marketing. Whenever there's been an innovation in marketing, Andy Sernovitz has been there.
Andy teaches word-of-mouth marketing at Northwestern, taught Entrepreneurship at the Wharton School of Business, ran a business incubator, and started half a dozen companies. GasPedal, his consulting company, advises great brands like TiVo, Dell, Ralph Lauren, Sprint, and Kimberly-Clark.
He created the Word-of-Mouth Marketing Association around the latest revolutions in blogs, buzz, and word of mouth. Before that, in the dot com days, he ran the Association for Interactive Marketing.
Andy writes an amazing newsletter and blog called "Damn, I Wish I'd Thought of That", and is author of the new book "Word-of-Mouth Marketing: How Smart Companies Get People Talking."

Who Should Attend?
Marketing, customer service and management professionals who understand the value of their customers and want to create great buzz for their company.
What Will You Learn?
How to find the right people to talk about you (influencers and evangelists)
How to identify "talkworthy" topics
How to create tools to make it easier to spread the word
How to participate in the conversation
How to track and measure results
Register Now!
You have two choices. You can pay as you go, buying single sessions that interest you. Or you can buy a PRO membership, and attend all our new PRO seminars and Take 10 webcasts over the next year, plus watch hundreds more from our library on-demand.
Questions?
Call our PRO Hotline: (866) 557-9625