You 2.0: Measuring (and Improving) Your Personal Brand on the Web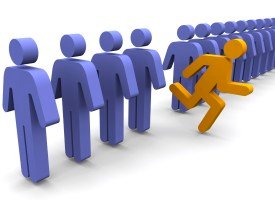 Presenter:

William Arruda

Broadcast:

Fri., Jun. 12, 2009, 12pm ET (9am PT)

Length:

90 minutes

Rating:
How much "digital dirt" about you is floating around? Personal Googling is quickly becoming the new reference check and people are searching for YOU online, whether it's a colleague dishing up some fun facts to spread around the office or a potential employer checking your credibility. Are you doing the most to make your online brand impressive or, at the very least, true?
This seminar will show you the top ten ways to use social media to build your personal brand. You will learn how to calculate your GQ: Google Quotient and how to improve what your online persona is communicating to others. As a marketer, it's essential for you to demonstrate your knowledge of Web 2.0 tools—and the best place to start is with your own personal brand.
Presenter

William Arruda works with individuals and organizations to build strong, memorable brands. Combining his 20 years of international branding expertise with his passion for people, he founded Reach, the world's first branding consultancy focused on the human side of branding.
William speaks on branding at conferences and corporate meetings around the world. He consults with such organizations as Microsoft, Ogilvy & Mather, Adobe and Warner Brothers. William has appeared on BBC TV, the Discovery Channel and Radio America.
William has numerous articles in publications ranging from the Wall Street Journal to the brandchannel.com and is one of the most highly regarded contributors to MarketingProfs. He's also co-author of Career Distinction: Stand Out by Building Your Brand.

Who Should Attend?
This is one seminar that will benefit EVERYONE, not just marketers. If you have a name and a pulse, don't miss this broadcast!
What Will You Learn?
Where you land on the scale between Digitally Disastrous and Digitally Distinct
What to do if a search about you produces unflattering or untrue results
How to leverage LinkedIn, Facebook and Twitter
Why being lazy is a powerful technique for building your brand
What "Virtual Real Estate" you should grab immediately
The "Six Ps" for improving your online brand
Important do's and don'ts for building your online identity
Register Now!
You have two choices. You can pay as you go, buying single sessions that interest you. Or you can buy a PRO membership, and attend all our new PRO seminars and Take 10 webcasts over the next year, plus watch hundreds more from our library on-demand.
Questions?
Call our PRO Hotline: (866) 557-9625