The Power of More: How Knowing More About Your Website Visitors Drives Greater ROI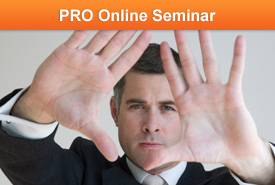 Presenters:

Marc Engelsman, Ben Yurchak

Moderator:

Jennifer Kelly

Broadcast:

Thu., Jun 20, 2013, 12pm ET (9am PT)

Length:

90 minutes

Rating:
Studies show that B2B customers are using online research to conduct upwards of 60% of their purchasing process before making direct contact with your company. That means that it's becoming increasingly important to understand who these prospects are and what they're looking for when they visit your website—because if your site doesn't meet their expectations, they'll click over to your competition.
This seminar will delve into some of the challenges marketers face when extracting meaningful and actionable insights from their web analytics data. We'll share tactical tips, approaches, and workarounds. We'll then go even deeper to show how you can gain even more critical customer insights that will lead you to more—more leads, more conversions, more sales, more ROI.
Presenters

Marc Engelsman has over 25 years of experience in marketing and advertising, much of it spent at New York City-based agencies where he directed a range of business-to-business and consumer accounts. Since coming to Digital Brand Expressions, he has gained a reputation for his expertise in forecast-driven digital context marketing including search engine optimization, paid search, social media and the integration of online/offline marketing strategy.


Ben Yurchak is the founder and president of KnowClick, a next generation digital analytics company. Ben previously served as VP of product management at TargetRx, VP of client services at ClickEquations, and he created the Strategy & Analytics practice for Refinery (Philadelphia's largest interactive agency at the time). Ben holds an M.B.A. in Marketing & Information Strategy from the Wharton School at the University of Pennsylvania.

Who Should Attend?
If you're looking to learn how to extract customer insights from enhanced web analytics to help increase leads, conversions, retention, and integration with the rest of your marketing mix, this PRO seminar is for you!
What Will You Learn?
How to extract meaningful and actionable insights from your web analytics data
Why web analytics is only the tip of the data iceberg
How to add the context of "who" and "why" to the "what" of website visits
Register Now!
You have two choices. You can pay as you go, buying single sessions that interest you. Or you can buy a PRO membership, and attend all our new PRO seminars and Take 10 webcasts over the next year, plus watch hundreds more from our library on-demand.
Questions?
Call our PRO Hotline: (866) 557-9625