What Matters Next: Doing Business in 2010, with Seth & Guy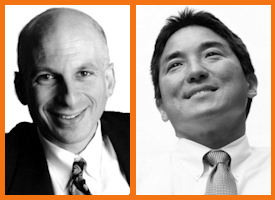 Presenters:

Seth Godin, Guy Kawasaki

Broadcast:

Thu., Jan 07, 2010, 12pm ET (9am PT)

Length:

90 minutes
How would you like to sit at your desk with two business luminaries and ask what they are thinking about? That's exactly how we're going to kick off the new year!
We're assembling a list of ideas, trends and technologies that may go big or go bust for marketers in 2010. Then we're turning Seth Godin and Guy Kawasaki loose to hear what they have to say.
PLEASE NOTE:  We had unexpected audio delays during the live broadcast. You'll notice them in the web recording, too.
Presenters

Seth Godin is author of ten books that have been bestsellers around the world and changed the way people think about marketing, change and work. His books have been translated into more than 20 languages, and his ebooks are among the most popular ever published. He is responsible for many words in the marketer's vocabulary, including permission marketing, ideaviruses, purple cows, the dip and sneezers. His irrepressible speaking style and no-holds-barred blog have helped him create a large following around the world.
Seth's latest book is coming this January: Linchpin: Are You Indispensable?.
---

Guy Kawasaki is a founding partner and entrepreneur-in-residence at Garage Technology Ventures. He is also the co-founder of Alltop.com, an "online magazine rack" of popular topics on the Web. Previously, he was an Apple Fellow at Apple Computer, Inc. Guy is the author of nine books including Reality Check, The Art of the Start, Rules for Revolutionaries, How to Drive Your Competition Crazy, Selling the Dream, and The Macintosh Way. He has a BA from Stanford University and an MBA from UCLA as well as an honorary doctorate from Babson College.

Who Should Attend?
If you've never heard Seth or Guy speak their minds, now's your chance! And if you're already a fan of these talented guys, we don't need to do much convincing to get you there, do we?
What Will You Learn?
What will shape your business in 2010
What trends will make a difference in your marketing — and maybe in your own life
Grapevine Marketing Series
| | |
| --- | --- |
| If you want to get the public's attention and keep it piqued, we've assembled the experts to show you how. This is the last of eight seminars in our Grapevine Marketing Series. PRO members have access to these and all our seminars, live and on-demand! | |
Register Now!
You have two choices. You can pay as you go, buying single sessions that interest you. Or you can buy a PRO membership, and attend all our new PRO seminars and Take 10 webcasts over the next year, plus watch hundreds more from our library on-demand.
Questions?
Call our PRO Hotline: (866) 557-9625