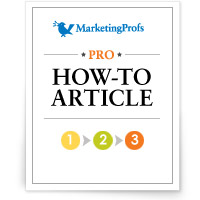 Three Critical Questions to Get the Most From Marketing Mix Modeling
Marketers interested in measuring effectiveness and ROI need to understand whether marketing mix modeling (MMM) can work for them and how to get the most from it.
Modeling measurements are often considered a bit complex and mysterious by marketersómany of whom did their best to merely survive any required statistics courses.
MMM has long been a reliable measurement for consumer packaged goods (CPG) companies and is now proving to be a great planning and measurement tool that increases profits in many diverse B2B and B2C industries.
The challenge is that marketers are missing opportunities to fully benefit from marketing mix models as part of a comprehensive measurement and management process.
Purchase today to read the full how-to article ...
This is just one of over 4000 marketing downloads, templates, guides, research reports, surveys, case studies and how-to articles INCLUDED with PRO Membership. Sign up today