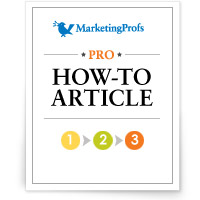 The Secret to Success in a Down Economy: Market Intelligence
Especially in a down economy, it's important to understand where the opportunities are—and how to capitalize on them. Luckily, today's companies have many avenues for gathering such information.
Still, marketing research and analysis are expensive—especially today when marketing resources are at a premium. So, the questions arise: "What is the role of market intelligence in today's company—and where should one focus?"
One Company's Approach to Market Intelligence
To get an answer, I turned to the head of market intelligence at a medium-sized corporation. I was interested in speaking with him for three reasons:
Purchase today to read the full how-to article ...
This is just one of over 4000 marketing downloads, templates, guides, research reports, surveys, case studies and how-to articles INCLUDED with PRO Membership. Sign up today