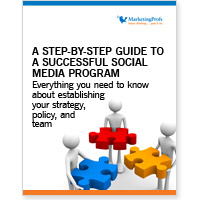 A Step-by-Step Guide to a Successful Social Media Program
We all know that social media is a must these days. At the very least, companies need to monitor and respond to the brand conversations that may already be taking place online, with or without their involvement.
For companies that participate in the social space more broadly, social media offers a revolutionary means of connecting with customers, prospects, and more; managing brand reputation and influencing public perceptions, and establishing thought leadership ... all while augmenting traditional marketing campaigns and improving SEO.
Problem is, some companies are investing a tremendous amount of time and resources into social media marketing and not seeing anything in return. You can't afford that, can you?
We hear you, and we're here to help. This 40-page guide will teach you best practices for garnering buy-in, determining strategy, creating a strong brand presence, and keeping your fans and followers happily engaged.
You will learn:
How to put a social media strategy into place
How to develop a corporate social media policy
How to create a strong brand presence
How to inspire and empower your workforce to participate
How to handle bumps and pitfalls along the way
If you're in need of a social media strategy spruce-up, this guide is for you!
This is just one of over 4000 marketing downloads, templates, guides, research reports, surveys, case studies and how-to articles INCLUDED with PRO Membership. Sign up today