Avoid Spam Filters: 10 Tips for Surefire Email Deliverability [Slide Show]
Sign up to gain access to thousands of marketing resources! Don't worry ... It's FREE!
Take the first step (it's free).
---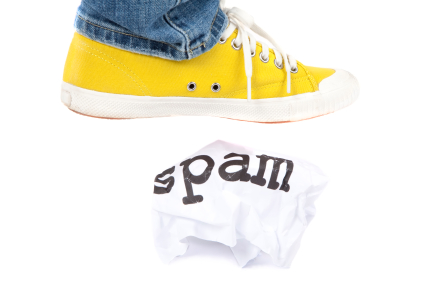 Research has shown that one out of every six marketing emails never reaches the inbox because it is mistakenly blocked by a spam filter.
Surprisingly, the sender—not the email service provider (ESP)—has the greater influence on deliverability.
Even though your email solution provider might have an impeccable reputation, your emails may never reach the inbox if your mailing list or content has issues. No software can solve email content or list problems, period. And even the world's most beautiful email is useless if it is blocked or it lands in the junk folder.
Implement the following 10 tips for minimizing deliverability problems, and then compare your results with pre-implementation metrics. You're sure to see a positive effect on your email program and the conversions it generates.

1. Guard your reputation
Email providers like AOL, Gmail, and Yahoo rate you as an email sender based on the reputation of your domain and Internet protocol (IP) address. For high deliverability, build a positive history by sending only solicited, relevant emails.
If your mailings are too frequent and are frequently unopened, Internet service providers (ISPs) may block your emails.
If you use a professional ESP (such as GetResponse), your risk of being blocked is low. But if you use a dedicated platform, always monitor the reputation of IPs and domains where your email campaigns originate by checking sites such as Senderscore.org.

2. Keep your list clean
Purchasing lists of "fresh" email addresses can ruin your deliverability. People respond well only to permission-based emails. Email campaigns sent to purchased lists—which tend to be riddled with dead and inactive email addresses—could damage your reputation beyond repair, leading to domain blocking.
Purchased lists also contain "spam traps"—addresses created to lure spam and generate grounds for nuisance lawsuits.

3. Keep your content clean
Spam filters look for the following:
Frequency of potential spam words (e.g., "free," "bonus")

Reputation of links in your email

Image-to-text ratio

Size of your email

Reputation of image-hosting service

4. Choose your 'From' field carefully
Yahoo Mail, in particular, uses a complex algorithm to analyze "from" addresses. During our tests, we've noted different results for the same emails sent using newsletter@yourdomainname.com versus support@yourdomainname.com.
Try tweaking the "from" field address and testing the same content to find out whether a tainted "from" field may be causing problems.

5. Ask recipients to 'whitelist' you
Want to avoid deliverability issues? Simply ask subscribers (at sign up) to whitelist you in their address books. Being on the "allowed senders" list releases you from the constraints of the spam filter.

6. Avoid gimmicks!
ISPs are wary of senders who use tricks to get email delivered and routinely block the following gimmicks:
Hashbusting: Randomly adding certain characters in the subject line or content to fool spam filters (e.g., "F.ree. p.r!z.e")

Deceptive subject lines: Starting the email message with "Re:" or "Fwd:" to imply a previous communication initiated by the sender

Misleading claims: Using subject lines that state the recipient has won a prize, though the copy lists conditions required to claim it

Image text: Cloaking a text message as an image to fool spam filters

7. Eliminate high-risk words
Minimize the use of words like "free," "prize," and "bonus" in your newsletters. Avoid using too many exclamation marks and all-caps words, especially in the subject line.
8. Monitor your SpamScore Check
A program called SpamScore Check from Spam Assassin tests your emails using many of the same criteria used by ISPs:
Risky keywords

Blacklisted URLs

Text-to-image ratio

Many others, updated often as algorithms evolve
Analyze the issues detected by SpamScore Check, and optimize your newsletters to keep deliverability high and safeguard your sender reputation.

9. Monitor your deliverability
Want an easy way to monitor deliverability that costs you nothing? Simply add a list of "seed" email addresses using ISPs your customers use most often (probably Gmail, Yahoo Mail, AOL, and Hotmail).
Create those seed email addresses by setting up five or so mailboxes at each provider, and include those email addresses in your mailing list. After each newsletter is deployed, log in to each seed account and verify whether the email was delivered successfully by that provider. Very useful!

10. Keep in touch
Sending emails once every two or three months can be more detrimental than sending two or three emails per day. Why? Your customers can forget about you.
If they fail to recognize your name in the "from" field, they may delete your messages, hurting your "open" ratio. Worse, subscribers may forget they signed up for your list and so mark messages as spam, generating negative feedback.
Make sure, then, to maintain a steady flow of communication instead of sending infrequent, massive "blasts."

Maciej Ossowski
is director of education at
GetResponse
, an email marketing provider that serves more than 210,000 SMB customers around the world.